01. Moon (The/Das All Sun Mix)
02. Lighting (FejkŠ Remix)
03. Isometry (Hundreds Remix)
04. Gravity (Alessandro Giannelli's 339 Remix)
05. Lighting (Kalipo Remix)
06. Garden (Thomas Atzmann Remix)
Release: 29.03.2018

After having played tours in China, Germany, Switzerland and Italy, Zurich-based duo Odd Beholder will record their debut album set for in September 2018 via Sinnbus and Mouthwatering Records. Prior to the album the two release selected remixes of tracks from their highly acclaimed first two EPs. Those remixes have been contributed by friends made along the way and artists Odd Beholder became fans of.

First one in line are The/Das, who have released their recent album "Exit Strategies" on Life And Death lately. The/Das pick up on one of their prime examples of electronic songwriting to emphasize the tune's mysterious qualities and turn "Moon" into a gently floating club track with a subtle beat and steady build.

Brian Zajak, aka FejkŠ usually releases on Christian LŲffler's Ki Records. Torn between the the dreamy soft atmosphere of ambient music, and the hard punchy vibe of techno, FejkŠ couldn't decide which direction his music production would take. "Day/night, dream/dance, slow/fast - music was always split into two worlds for me" he says. Thus, he turns "Lighting" into a melancholic and gently flowing track.

Hundreds have a long story with Sinnbus. The band released their first two albums on the label and developed to be one of Gemany's finest and most tasteful electronica/pop bands. Hundreds invited Odd Beholder to join support them on tour. Since then both bands planned to collaborate, as finally with this very straight, yet very sophisticated remix.

Alessandro Giannelli is one half of swiss instrumental Electronica duo Egopusher. As the band's sound is a mixture of elegant, analog Electronica, with a touch of Neo Contemporary, he turns "Gravity" into a kraut-y track, adding a good portion of hypnotic urge to the original material.

Kalipo has made a name for himself as a producer for a wide range of music, but is more widely known as a member the German electro punk outfit Frittenbude for which he has produced three albums. As Kalipo he explores a different and less wild musical direction, blending lush House rhythms with trance inducing Techno beats somewhere between 110 and 130 bpm while also taking cues from Downbeat and Gamelan traditions. His take on Odd Beholder's "Lighting" is gently flowing track, permanently building up without having to explode. It's a clever interpretation of Odd Beholder's sound, minimalistic, melancholic and full of warmth.

Thomas Atzmann is an "old school DJ, but with lot's of new equipment". He's label mate with Kalipo on Hold Your Ground and also releases on Underyourskin Records. He's known for melodic and dreamy sets with the aim to always get the audience to dance, no matter if expert or rookie. His tender remix of "Garden" is a perfect finish for this EP. 'Odd Beholder - Remixes' will be released on March 29th, 2018 on Sinnbus.


GET THIS NICE RECORD!

Stream / Audio files via smarturl.it/OddBeholder-Remixes

VIDEO:


LINKS:

www.facebook.com/oddbeholder
www.instagram.com/oddbeholder

COVERPICTURE:

Remixes Cover

BANDPICTURES: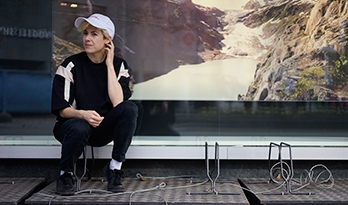 Odd Beholder Pic 01
Odd Beholder Pic 02
Odd Beholder Pic 03

Pics by Tim Wettstein
DATES:

No dates at the moment
RELATED RELASES:


Odd Beholder
Atlas
read more ...

Odd Beholder
Lighting
read more ...