DAS REINE WAS-IST-IST: ALLES WAS ICH MACHE IST KUNST

Die Gruppe UNS beschließt das Jahr 2017 im Trotz. Sie passiert die Jahresgrenze mit dem Schwung eines wohlgereiften falschen Stolzes. "Alles Was Ich Mache Ist Kunst" ist ein Vorgeschmack ist ein Lebenszeichen ist ein Kunstwerk ist ein Aufbäumen ist ein Aufgeben ist ein hartgekochtes Ei im Park wird dein 2018 sein: Wo du auch stehst, was du auch tust, was immer du verbrennst und was immer du verdienst und an wem immer du zerbrichst. Das wird dein Werk! Dein Jahr! Keine Rechtfertigung, keine Auszeichnung, ein reines Was-Ist-Ist: Alles, was du machst, ist Kunst.

Die Gruppe UNS sind drei Leute mit Vergangenheiten (Kate Mosh, Klubexpress, Nonkeen), Gegenwarten (Agentur, Hartz IV, Kulturingenieur) und Zukünften (Bart, Tisch, Wind). Sie spielen Schlagzeug, Synths, Gitarre und Hund. Alles, was sie machen, ist Kunst. Ihr Groove bollert die Showtreppe herunter, die Gitarre verirrt sich im Nebel, der Gesang gefällt sich in der Pose, bis er sie plötzlich ernst meint. In Teilen frühe Begleiter von Sinnbus drängen UNS heute in unser Labelnest. Und während wir jung und schön wundervoll geblieben sind, sind sie gezeichnet von jedem kleinen Verrat, jeder verbrannten Brücke, jeder Enttäuschung, jeder Verzweiflung an den Umständen und am eigenen Vermögen. Unser Bildnis des Dorian Gray. Alles, was sie machen, ist Kunst.

Was UNS machen (Auswahl): Gründung als One-Night-Stand. Rohrkrepierer als Debüt. Verständigung auf ein gemeinsames Ziel und drei Jahre harter Arbeit im Gegenteil. Blindes Einverständnis. Anzüge aus Tränenblech. Infotexte, die Turbostaat, Air, Heinz-Rudolf Kunze und Ich weiß nicht mehr genau Die Ärzte oder was bitte nochmal checken vor Versand durcheinander bringen. Herzgüldene Liebespoesie vor aggressiv primitiver Lightshow und andersrum. Küssen als Ausweg. Narben als Ausweis.

Eine Aufnahme von Frithjof Rödel. Ein Mix von Tobias Siebert. Ein Master von Jan Driver. Ein Video von Max Parovsky. Ein Singlerelease am letzten Tag des Jahres. Eine Schnapsidee und eine Kunst. Wir freuen uns darauf, das Jahr mit UNS und ihrem Ruf der gnadenlosen Selbstbehauptung, des Trotzes und der Vergeblichkeit auf den Lippen zu beginnen: Alles Was Ich Mache Ist Kunst.
A BRITTLE WHAT-IS-IS: EVERYTHING I DO IS ART.

The band UNS are leaving 2017 behind, loud and defiant. They have crossed the annual threshold with the full momentum of a well-aged false pride. "Alles Was Ich Mache Ist Kunst" is a foretaste is a sign of life is a work of art is an uprising is a surrender is a hard-boiled egg in the park and your 2018: Wherever you stand, whatever you do, whatever you will burn, whatever you will earn and whoever will break you. This will be your design! Your year! No justification, no award, a brittle what-is-is: Everything you do is art.

The group UNS are three people with a past (Kate Mosh, Klubexpress, Nonkeen), a present (public relations, Hartz IV, cultural engineer) and a future (beard, table, wind). They play drums, synths, guitar and the dog. Everything they do is art. Their groove comes crashing down the illuminated stairway, a guitar gets lost in the fog, the voice enjoys the ironic pose until suddenly everything becomes raw and honest.

UNS and Sinnbus go way back and now they are pushing back into our cozy label nest. And while we have remained young and radiant and beautiful, they bear the marks and scars of every little treachery, every burned bridge, every disappointment, every bit of failure to be masters of their own fortune. They are our portrait of Dorian Gray. Everything they do is art.

What UNS do (excerpt): founded as a one-night stand. A colossal flop for a debut album. A profound agreement on a common goal and three years of hard work on the contrary. Blind consent. Suits made of durbar plate. Info texts that mix up Tuxedomoon, Air, Mclusky and, whatever, DAF or something. Lovely golden minnesong backed by an aggressively primitive light show and vice versa. Kissing as a way out. Scars as ID.

A recording by Frithjof Rödel. A mix by Tobias Siebert. A master by Jan Driver. A video by Max Parovsky. A single release on the last day of the year. A stupid idea and a work of art. We look forward to starting the year with UNS and their call of ruthless self-assertion, defiance and futility on our lips: Everything we do is art.


GET THIS NICE TRACK!

Download / Stream via smarturl.it/uns-kunst

LINKS:

www.uns.fm
www.facebook.com/unsunsuns
www.instagram.com/uuuunnnnssss
COVER PICTURE:

ALLES WAS ICH MACHE... Cover

BAND PICTURES: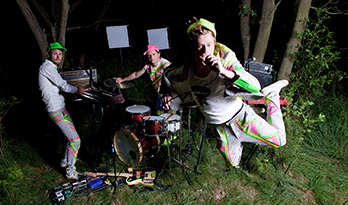 UNS Pic 01
UNS Pic 02
UNS Pic 03

Pics by Alina Simmelbauer

VIDEO:


DATES:

No dates at the moment