"Unser Leben wurde seltsam und schwierig in den letzten Jahren - sowohl persönlich als auch in der Welt um uns herum." Mit etwas mehr als einem Jahrzehnt ihres musikalischen Lebens als Rue Royale veröffentlichen Brookln und Ruth Dekker mit "In Parallel" ihr nunmehr viertes Album. Ein Album mit mutigen, eindringlichen und deutlich rhythmischeren Songs, die alle in einer ebenso schönen wie unruhigen Zeit entstanden sind.

"In Parallel" wächst durch ständiges Hinterfragen und Verfeinern. Und mit Hilfe von Sean Carey (Bon Iver, S. Carey). Durch seinen rhythmischen Einfallsreichtum, der nun als neue Textur in der Musik von Rue Royale zu hören ist, vor allem aber wegen des deutlich gereiften Songwritings ist "In Parallel" das beachtlichste Album der Band.

Neben der Mitarbeit von Sean Carey wurde "In Parallel" von Brookln und Brian Joseph (Bon Iver, Sufjan Stevens) aufgenommen und von Zach Hanson (The Tallest Man On Earth, The Staves, Low) gemischt und gemastert. "Es war toll, mit Sean zu arbeiten", sagt Brookln. "Obwohl die Stücke an sich schon breiter angelegt waren als unsere vorherigen Songs, hat er uns wirklich geholfen, an diesen neuen Punkt zu kommen. Er steuerte viele kühne rhythmische Ideen bei, dazu ein paar melodische Schätze auf Klavier und Keyboards. Auf ein paar Liedern singt er sogar." Finanziert wird das Album dann durch eine Online-Crowdfunding-Kampagne - Beweis für die starke Bindung zu den Fans, die Brookln und Ruth über viele Jahre hinweg pflegen.

Das in Nottingham ansässige anglo-amerikanische Duo ist unermüdlich unterwegs und spielt über 1.000 Konzerte in 16 Ländern. 2014 nimmt sich das Paar jedoch erstmals eine Auszeit. Nach sieben Jahren praktisch ununterbrochenem Leben auf der Straße brauchen sie eine Pause, um durchzuatmen. Stattdessen bekommen sie ein Kind. Und das oft bemühte Klischee von Freud und Leid, die ein aufwachsendes Kind mit sich bringt, wird in ihrem Zuhause Wirklichkeit. Während die beiden sich außerdem mit Trump und Brexit den politischen Umwälzungen in ihren zwei Heimatländern stellen.

Ruth und Brookln, die sowieso schon von unterschiedlichen Kontinenten stammen, bemerken über die Jahre beachtliche Unterschiede in ihrer beider Wahrnehmung und Erfahrung, während sie Schulter an Schulter ihr gemeinsames Leben und ihre gemeinsame Band führen. Die parallele Existenz und parallele Sichtweise verstärken sich indes in den Monaten und Jahren nach der Geburt ihres Kindes; während eine glückselig schwebt, taumelt der andere gefährlich herum.

"Wir kamen vom Touren nach Hause und stellten fest, dass wir uns von der 'realen Welt' aus Freund_innen und Familie abgeschottet hatten", reflektiert Ruth. "Unsere wunderschöne Tochter kam auf die Welt und riss uns nur noch weiter vom Lenkrad weg, während wir versuchten, die Herausforderungen in Einklang zu bringen, unabhängige Künstler_innen zu sein und eine Familie mit neuen Aufgaben zu haben."

Wieder raus zu gehen ist für die Dekkers selbstverständlich - nun eben mit Kinderbetreuung für unterwegs. Ihre künstlerische Reise beginnt 2006 in Chicago, das zu der Zeit ihre gemeinsame Heimatstadt ist. Sie veröffentlichen 2008 ihr erstes selbstbetiteltes Album und ziehen nach Großbritannien. Zwei weitere Alben folgen - 2012 "Guide To An Escape" und 2014 "Remedies Ahead" - während das Paar seine eigene Heimindustrie startet, Tausende CDs in selbst genähten Hüllen verschickt und sich jede Menge anderes originelles Merchandise ausdenkt. Sie werden auf BBC 6 Music gespielt, sind auf Soundtracks wie dem von "Grey's Anatomy" vertreten, und eines ihrer Stücke findet sich als Sample in J Cole's "Miss America", wieder - der ersten Single von dessen Billboard No.1 Album "Born Sinner".

"Wir sind uns bewusst, dass es vielleicht etwas länger gedauert hat, um wieder in Gang zu kommen. Länger als wir, und alle anderen, die unsere Band verfolgen, erwartet haben", sagt Ruth. "Wir nehmen jetzt unsere unterschiedlichen Wahrnehmungen an. Und gleichen die Ungleichgewichte aus. Wir bewegen uns mit Zuversicht und einer Art Weitwinkelblick, der sich aus unseren Parallelwirklichkeiten zusammensetzt und diese Themen und Gefühle erforscht - wie auf 'In Parallel'."


"Life got weird and difficult over the last few years - both personally and in the world around us." Over a decade into their musical life as Rue Royale, Brookln and Ruth Dekker are back with In Parallel, an album of bold, rhythmic and sometimes haunting songs born from a time of beauty and tumult.

A period of reflection and honing, with help from Sean Carey (Bon Iver, S. Carey), forged Rue Royale's fourth album, "In Parallel". Due for a late summer release, it's their most substantial yet, driven by Carey's textural and rhythmic inventiveness and the outfit's strongest song-writing to date.

As well as featuring Sean Carey, "In Parallel" was engineered by Brookln and Brian Joseph (Bon Iver, Sufjan Stevens) and mixed/mastered by Zach Hanson (The Tallest Man On Earth, The Staves, Low). "It was great to work with Sean," says Brookln. "Though the songs were already broader in scope than our previous work by the time we got into the studio with him, he really helped to mark this new ground by pounding into place stakes of bold rhythms plus some melodic treasures with piano and keys, even singing on a couple of songs." The album then was financed by an online crowdfunding campaign, a testament to the strong relationship with fans that Brookln and Ruth have treasured and fostered over many years.

The Nottingham-based Anglo-American duo have paid their dues with 1,000+ shows in 16 countries. In 2014, the pair took an enforced period of time off the road. After 7 years of virtually non-stop life on-the-road, they needed a breather. Instead, they had a baby. Being joined in life by a daughter, the oft-clichéd pleasure and pain of child rearing became real at home whilst paying the bills and facing up to political upheavals in their dual home countries with Trump and Brexit.

Already, hailing from separate continents, Ruth and Brookln noticed for years a striking difference in perception and experience as they moved along shoulder to shoulder. This parallel existence and parallel views were amplified in the months and years following childbirth; as one was blissfully floating, the other was perilously dangling.

"We came off the road and realized that we had shut ourselves off from the 'real world' of friends and family", reflects Ruth. "Our beautiful daughter came along which prized our hands off the steering wheel even further as we tried to balance the challenge of being independent artists and a family with new responsibilities."

Taking to the road again - with childcare in tow - will come as second nature to the Dekkers who began their artistic journey together in 2006 in their then home city of Chicago. They released their debut self-titled LP in 2008 and moved to the UK. Two more albums (2012's Guide To An Escape and 2014's Remedies Ahead) followed as the couple started their own cottage industry, sending out thousands of CDs in home-stitched cases and dreaming up other inventive merch ideas. They've featured on BBC 6 Music, soundtracked TV shows including Grey's Anatomy and even saw one of their songs sampled on J Cole's 'Miss America', the first single from Billboard No.1 album "Born Sinner".

"We're conscious that things have maybe taken a bit longer to kick into gear again than we, and those who follow us, anticipated," says Ruth. "We're now embracing our differing perceptions and balancing imbalances. We're moving forward with a confidence and a sort of wide-angle view comprised of our parallel-realities, exploring these themes and feelings in 'In Parallel'."


GET THIS NICE RECORD!

Sinnbus Shop: LP | CD
Stream / download: http://smarturl.it/RueRoyale-InParallel
LINKS:

www.rueroyalemusic.com
www.facebook.com/rueroyalemusic
www.instagram.com/rueroyaletheband
COVERPICTURE:

In Parallel Cover

BANDPICTURES: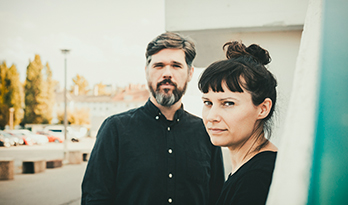 Rue Royale Pic 01
Rue Royale Pic 02
Rue Royale Pic 03
Rue Royale Pic 04
Rue Royale Pic 05
Rue Royale Pic 06

Pictures by Andreas Hornoff
DATES:

No dates at the moment
RELATED RELASES:


Rue Royale
Remedies Ahead
read more...

Rue Royale
Guide To An Escape
read more...