Odd Beholder, das Projekt der in Zürich lebenden Musikerin Daniela Weinmann, veröffentlicht mit "Loneliness" die erste Single des im Herbst erscheinenden Debüt-Albums "All Reality Is Virtual".

"Loneliness" handelt davon, mit sich selbst konfrontiert zu werden, mit den eigenen Schwächen, Lügen und Wahrheiten. "Wenn ich das Stück höre, sehe ich eine Kämpferin in der Wüste", sagt Weinmann. "Ich stelle mir die Kämpferin vor, stelle mir die Waffen vor, die sich aussucht. Das in Gedanken durchzugehen, machte die Figur mehr zu einem Figur in einem Spiel. Also dachte ich mir den Kampf als Spiel oder Sport." Die Einsamkeit steht dabei für verschiedene Dinge. Weinmann fährt fort: "Das kann auch die Einsicht sein, dass das Spiel gegen Dich ausgerichtet ist. Der Gegner ist einfach durch die Infrastruktur verkörpert und muss nicht mal anwesend sein, um über Dich zu gewinnen. Das ist die Einsamkeit, struktureller Macht zu unterliegen."

Odd Beholder haben mit "Lighting" und "Atlas" bereits zwei tolle EPs veröffentlicht. Darüber hinaus erscheint im Frühjahr 2018 mit "Remixes" eine fein säuberlich zusammengestellte EP mit ausgewählten Bearbeitungen von Freund_innen, die Odd Beholder unterwegs gefunden haben oder von denen sie Fans geworden sind: The/Das, Fejká, Hundreds, Alessandro Giannelli, Kalipo, Thomas Atzmann. Nach Touren in China, Italien, Deutschland und der Schweiz, hat Daniela Weinmann in Zusammenarbeit mit dem Schweizer Musiker und Produzenten Martin Schenker das Debütalbum aufgenommen. "All Reality Is Virtual" von Odd Beholder erscheint am 19.10.2018 als LP, CD und digital auf Sinnbus und Mouthwatering Records.


Odd Beholder, the project of Zurich-based musician Daniela Weinmann, is about to release the full-length debut album "All Reality Is Virtual" this fall. The tenderly flowing track "Loneliness" is giving a first glimpse.

"Loneliness" is about being confronted with yourself, with your weaknesses, your lies, your truth. "When listening to the song, I saw a fighter in the desert," says Weinmann. "I was picturing the fighter, what was her weapon of choice? Flipping through the weapons was like choosing a game character, so I was also thinking of fight as a game, as a sport." Loneliness is a metaphor here for a number of things. Weinmann continues: "It can also be the insight that the game is rigged against you. Your enemy is embodied by the infrastructure, he doesn't even needs to face you to win over you. That's the loneliness of being subjected to structural power."

Odd Beholder have released two highly acclaimed EPs already, "Lighting" and "Atlas". Followed by the "Remixes" EP. Those remixes have been contributed by friends made along the way and artists Odd Beholder became fans of: The/Das, Fejká, Hundreds, Alessandro Giannelli, Kalipo, Thomas Atzmann. After having played tours in China, Germany, Switzerland and Italy, Daniela Weinmann teamed up with swiss musician and producer Martin Schenker to finish producing Odd Beholder's debut album. "All Reality Is Virtual" will be out Oct. 19th, 2018 on Sinnbus and Mouthwatering Records.


GET THIS NICE RECORD!

Stream / Audio files via smarturl.it/OddBeholder-lonely

LINKS:

www.facebook.com/oddbeholder
www.instagram.com/oddbeholder

COVERPICTURE:

Loneliness Cover

BANDPICTURES: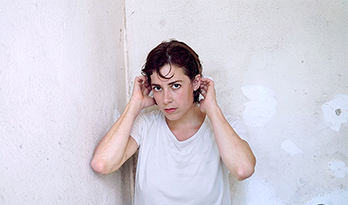 Odd Beholder Pic 01
Odd Beholder Pic 02

Pics by Odd Beholder
DATES:

24.02.2019 - CH - Bern - Bee-Flat im Progr
05.04.2019 - DE - Karlsruhe - Café Nun
06.04.2019 - DE - Stuttgart - Atelierkonzert
07.04.2019 - DE - Saarbrücken - Mauerpfeiffer

RELATED RELASES: