01. LONG GOODBYE (feat Emily Millard)
02. WHEN I DREAM, I DREAM OF YOU
03. DELTA LAB
04. OUR SPECTACULAR AND COMMON LIVES
05. MID-TEMPO DRAMA
06. WHEN YOU DREAM, YOU DREAM OF WAVES
07. PEACHLAND AT NIGHT
08. DARK HORIZON
09. CHOICE IS UNLIKE ANYTHING
10. ONES YOU LOVE (feat. Shad)
11. TO GET IT RIGHT YOU HAVE TO GET IT WRONG SOMETIMES
Release: 05.10.2018
We Are The City werden am 05. Oktober 2018 ihr neues, selbst produziertes, gemischtes und gemastertes Album "AT NIGHT" veröffentlichen. Von der Kritik verehrt und international mit dem Ruf einer fantastischen Liveband versehen, steht das Trio nicht nur für seinen überdrehten Prog-Pop/Rock oder für seine preisgekrönte Film- und Filmmusikarbeit; vor allem sucht es immer die Herausforderung außerhalb der eigenen comfort zone.

Mit dem "My Dinner With We Are The City" geben We Are The City einen intimen Einblick in ihre derzeitige Welt. Bei einem luftigen Garten-Dinner erinnern sich die drei an die albernen bis traurigen Momente, die sie über ein Jahrzehnt hinweg gemeinsam erlebt haben, und nehmen die aktuellen Einflüsse auseinander, die ihre Arbeit inspirieren und die Band zusammenhalten. Fast nebenbei wird erwähnt, dass "AT NIGHT" nur das erste von zwei sehr unterschiedlich konzipierten und abgeschlossenen Alben sein wird, die die Band kurz nacheinander veröffentlichen werden. Das zweite dieser Alben heißt "RIP"; der düstere Titel und einige weitere Details kommen im Video zur Sprache.

"AT NIGHT" ist das Ergebnis eines zweiwöchigen Ausbruchs ungebundener Kreativität, es ist voller verzerrter Crescendos und anschließender zarter Abkühlungen. Das Album ist lebhaft, es kommt von Herzen, ist in voller Absicht unvollkommen. Mit einem Gastauftritt des kanadischen Hip-Hop-Stars Shad (der hier singt, statt zu rappen), mit hauchdünn überlagerten Melodien, mit ihrer wie immer elektrisch geladenen Experimentierfreudigkeit gelingt We Are The City mit "AT NIGHT" das eindrückliche Dokument eines ansonsten flüchtigen, zauberhaften Moments.

Sänger/Keyboarder Cayne McKenzie, Schlagzeuger Andrew Huculiak und Gitarrist David Menzel gründen We Are The City als Teenager. Seitdem haben sie das Projekt als Ventil für ihre wildesten kreativen Launen genutzt. Sie enthüllen ihre maskierte Alter-Egos (High School EP), schreiben ein Album mit einem dazu gehörenden, preisgekrönten norwegischen Spielfilm (Violent) und inszenieren einen 24/7-Fake-Live-Stream ihrer Albumaufnahmen (Above Club 2015). Und nun, mitten in Freuden und gelegentlichen Tragödien des Erwachsenseins angekommen, nehmen sie ihre nächste Herausforderung an: absolute, unerschütterliche Aufrichtigkeit.


We Are The City, Vancouver's critically revered and internationally celebrated trio, for not only their innovative blend of prog-rock but for their award winning film and score work, announce a brand new, self produced, mixed and mastered record AT NIGHT coming out on October 5, 2018.

The band is offerning an intimate preview back into their world with their "My Dinner With We Are The City". Over a candle-lit, catered dinner the trio reminisce on the silly to the sorrow-filled career moments they have encountered together over a decade and dissect the continued influences that inspires their work and keeps them together. They also reveal AT NIGHT will be the first of two very differently conceived and completed albums the band will release in succession. The additional album is called RIP, and its somber title and select additional details are referenced in the video.

AT NIGHT arrived after a two-week burst of untethered creativity and full of warped crescendos and delicate comedowns. The album is joyful and intentionally imperfect. Featuring a guest appearance from Canadian hip-hop star Shad (who sings here, rather than rapping) or overlaying gossamer melodies with static-soaked experimentation, this is the sound of lightning in a bottle.

Singer-keyboardist Cayne McKenzie, drummer Andrew Huculiak and guitarist David Menzel started We Are The City when they were teenagers, and in the decade-plus since, they've used the project as an outlet for their wildest creative whims. They unveiled masked alter-egos (2011's High School EP), created an album with an accompanying, award-winning Norwegian-language feature film (2013's Violent), and staged a live stream of their recording sessions (2015's Above Club). Now, with the joys and occasional tragedies of adulthood having fully set in, they've taken on their latest challenge: absolute, unflinching sincerity.




GET THIS NICE RECORD!

Sinnbus Shop: LP | CD
Stream/Download: smarturl.it/WeAreTheCity-ATNIGHT

LINKS:

www.wearethecity.ca
www.facebook.com/wearethecity
www.instagram.com/wearethecity
COVERPICTURE:

AT NIGHT Cover
BANDPICTURES: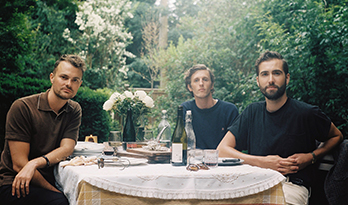 We Are The City Pic 01
We Are The City Pic 02

Pics by Kirsten Huculiak

DATES:

No dates at the moment
RELATED RELASES:


We Are The City
Above Club
read more ...

We Are The City
Violent
read more ...