"In deinen späten Zwanzigern fängst du an, dich zu fragen, ob die Weigerung, deine Träume loszulassen, nur sinnlose Bestimmung ist, oder ob es eine tatsächliche Entscheidung ist, die du Tag für Tag triffst."

Die in Amsterdam ansässige Band DAKOTA veröffentlicht ihr Langspiel-Debüt mit dem programmatischen Titel "Here's The 101 On How To Disappear".

In ihrer Musik verbinden Lisa Brammer, Lana Kooper, Jasmine van der Waals und Annemarie van den Born verwaschene Walls Of Sound mit sonnigem california feeling, treibenden Garage Rock mit melancholisch wanderndem Dreampop, und verknüpfen all das mit klugen und scharfen, zuweilen bitteren Beobachtungen über alles Zwischenmenschliche.

Ist der Traum, dem Du nachjagst, dein Freund oder warst du schon immer der Stalker, der sich weigert, loszulassen? Und ist diese Jagd irgendwann der einzige noch übrig gebliebene Hinweis darauf? Ist es jetzt nur noch idiotischer Stolz, der dich auf dem gleichen Weg hält, oder sind wir wirklich entschlossen, dies hier zu tun? Immer wieder wirst Du hängen gelassen, aber versuchst, nicht umgeworfen zu werden.

Mit ihren bisherigen Singles EPs und der sehr guten 'Silver Tongue/Wanderlust' - 7inch erspielen Dakota sich schnell den Ruf einer fesselnden Liveband, hinterlassen bei The Great Escape, dem Reeperbahn Festival, oder Eurosonic einen nachhaltigen Eindruck und holen sich ausdrückliches Lob von der BBC Radio 1 und geschmackvollen Entdecker-Medien wie The Line Of Best Fit.

Nun beweißt sich das Quartett mit einem schönen wie komplexen, traurigen wie leichten Album. "Here's The 101 On How To Disappear" erzählt davon, in seinen Abgrund zu schauen und alle Fragen zu stellen. Mit Würde und erhobenem Kopf.


"In your late twenties you begin to wonder if refusing to let go of your dreams is just mindless determination or if it's an actual decision you keep making, each and every day."

Amsterdam-based band DAKOTA releases their debut album with it's programmatic title "Here's The 101 On How To Disappear".

Lisa Brammer, Lana Kooper, Jasmine van der Waals and Annemarie van den Born blend washed-out walls of sound and sunny california feelings, driving garage rock and melancholic, meandering dream pop, and combine all this with clever and sharp, sometimes bitter observations about everything interpersonal.

Is the dream you are chasing your friend or have you always been the stalker, refusing to let go? And is this chase at some point the only thing that is your evidence of that dream? Is it now just idiotic pride that keeps you on the same path, or are we really resolved to do this? You are left high and dry, again and again, but try to keep your head up.

Touring with their previous singles, EPs, and the very beautiful 'Silver Tongue/Wanderlust' - 7inch, Dakota quickly made a name of being an amazing live band, leaving a lasting impression at The Great Escape, Reeperbahn Festival, or Eurosonic and got praised by the likes of BBC Radio 1 and tasteful early adaptors like The Line Of Best Fit.

Dakota set a mark with a beautiful and complex, sad and light album. "Here's The 101 On How To Disappear" is about staring at the abyss and daring to ask all the questions. With dignity and grace.


GET THIS NICE RECORD!

Stream/Download: smarturl.it/Dakota-101

VIDEO:


LINKS:

www.musicdakotamusic.com
www.instagram.com/musicdakotamusic
www.facebook.com/musicdakotamusic
COVER PICTURE:

Here's The 101 On How To Disappear - Cover

BAND PICTURES: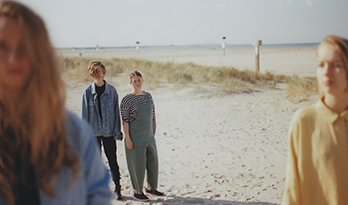 Pic by Bibian Bingen: 01
Pisc by Lisa Brammer: 01 02 03 04 05
Pic by Raymond van Mil: 01


DATES:

No dates at the moment