Close Talker ist eine Indie-Rockband aus Saskatoon, Kanada. Die Band tourte durch Nordamerika und Europa und gewann die Aufmerksamkeit und Lob von namhaften Stimmen wie NPR, Billboard, Clash, Spin, Q Magazine und Consequence of Sound.

Über "Half Past Nine" sagt die Band:

Ein Konzert ist ein Ort, an dem unterschiedliche Menschen aus dem gleichen Grund zusammenkommen. Es ist ein Ort, an dem man etwas mit völlig Fremden gemeinsam hat und an dem man etwas transzendentes mit Menschen erleben kann, das man nie kennen wird. 'Half Past Nine' erzählt von einem Konzert, das wir drei auf unserem Liebelingssommerfestival gesehen haben. Du siehst Dich um und alle, Freunde und Fremde singen mit. Alle singen diese Worte mit, die ihnen so viel bedeuten, die sie durch alle möglichen Lebenslagen gebracht haben, von denen nur sie etwas wissen.

Es geht darum die Momente festzuhalten, von denen man sich wünscht, dass sie nicht vergehen, und dann verzweifelt zu versuchen, sich an sie zu erinnern, nachdem sie weg sind. Meistens braucht es Rückblicke, um zu erkennen, wann etwas Tiefgründiges passiert ist, aber ab und zu kann man es im Moment spüren. In diesem Lied geht es um diese Momente und die Versuche, sie zu behalten.

Die Entscheidung, ihr kommendes Album "How Do We Stay Here?" selbst zu produzieren, ermöglichte es der Band, jeden Schritt nah bei sich selbst zu behalten, während es sich im Laufe des Jahres 2018 in den RMS Labs in Regina, SK, organisch entwickelte.

Close Talker interessieren sich heute mehr denn je für zeitlose Musik - Musik, die die Hörer_innen nicht zwingt, in eine bestimmte Richtung zu denken oder auf eine bestimmte Weise zu fühlen. Die Band näherte sich jedem Song an, indem sie sich zu radikaler Ehrlichkeit verpflichtete und sich außerdem eine Liste mit 10 Geboten aufstellte, mit der jede Entscheidung gefällt wurde. Einige waren rein praktisch wie: "Beginne mit dem, was du kannst", während andere mehr zur Überprüfung der Einstellung dienten oder auch ganzheitlich waren: "Kein Ego". Alles, was die Musik betrifft, hat Vorrang.

"How Do We Stay Here?" ist ein Album, das die Band für sich selbst geschrieben hat, in der Hoffnung, dass die Stücke auch in zehn Jahren die gleiche Kraft und Bedeutung haben werden, wie sie es heute tun. "How Do We Stay Here", das bisher stärkste und selbstbewussteste Album von Close Talker, wird am 30. August 2019 veröffentlicht.


Close Talker is an indie rock band from Saskatoon, Canada. The band has toured throughout North America and Europe, gaining the attention and praise of notable publications such as NPR, Billboard, Clash, Spin, Q Magazine, and Consequence of Sound.

Close Talker about "Half Past Nine":

A concert is a place where you can find people from every walk of life come together for the same reason. It's a place where you share something in common with complete strangers and a place where you can experience something transcendent with people you will never even know. "Half Past Nine" is about a concert the three of us attended, at our favourite summer festival. It's about looking around at friends, at strangers, and seeing each person sing along to words that mean so much to them - words that have carried them through times only they know about.

It's about holding on to the moments that you never want to end, and then desperately trying to remember them after they are gone. It takes hindsight to recognize when something profound has happened, but every now and then, you're able to sense it right in the moment. This song is about those moments and the attempts to cling to them.

Choosing to self produce their upcoming album "How Do We Stay Here?" allowed the band to hold this album close to their chest while it developed organically over the course of 2018 at RMS Labs in Regina, SK. Close Talker, now more than ever, is interested in music that is timeless - music that won't force the listener into feeling a certain way. To achieve this, the band approached each song following a code of instincts and honesty, including a list of 10 commandments by which each decision was filtered through. "How Do We Stay Here?" is a testament to the band's integrity and a desire to produce music that is original and pure.

"How Do We Stay Here?", the band's strongest and most confident album to date, will be released in September 2019.


GET THIS NICE RECORD!

Stream/Download: smarturl.it/HalfPastNine

MUSIC:


LINKS:

www.closetalker.ca
www.instagram.com/closetalkerband
www.facebook.com/closetalkerband
COVER PICTURE:

RHalf Past Nine - Cover

BAND PICTURE: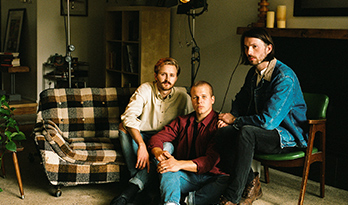 Close Talker Pic 01 | Close Talker Pic 02

Pics by Nicole Marie.
DATES:

19.10.2019 - DE - Darmstadt - Bedroomdisco
20.10.2019 - DE - Bochum - Jahrhunderthalle/Dampfgebläsehaus
21.10.2019 - DE - Köln - Subway
22.10.2019 - DE - Dortmund - FZW
23.10.2019 - NL - Utrecht - TivoliVredenburg
24.10.2019 - DE - Hamburg - Nochtwache
25.10.2019 - NL - Zwolle - Hedon