Close Talker ist eine Indie-Rockband aus Saskatoon, Kanada. Die Band tourte durch Nordamerika und Europa und gewann die Aufmerksamkeit und Lob von namhaften Stimmen wie NPR, Billboard, Clash, Spin, Q Magazine und Consequence of Sound.

Über "The Change It Brings" sagt die Band:

Zeit ist universell und die einzige Währung, die wir alle teilen. Egal in welcher Situation, jede*r ist von Zeit geprägt. Es kann uns zum Schlechten oder zum Besseren verändern, aber irgendwann werden wir uns alle der Kraft der Zeit stellen müssen. Dieser Song, wie auch das ganze Album, ist der Versuch, mit der Zeit zu ringen. Er erzählt vom Versuch, aus unseren Erfahrungen zu lernen, vom Versuch, den Durchblick zu behalten, und davon in dieser seltsamen Welt voranzukommen. Und manchmal auch davon, überhaupt nicht voranzukommen; einem Moment lang still zu sitzen und alles einzusaugen, was er zu bieten hat, bevor er zu nichts anderem als einer Erinnerung wird. Das Album "How Do We Stay Here?" - das sind wir wie wir uns durch die letzten zwei Jahre navigieren, während der guten und schlechten Zeiten, die uns geprägt haben, und von denen wir zu lernen versuchen.

Die Entscheidung, ihr kommendes Album "How Do We Stay Here?" selbst zu produzieren, ermöglichte es der Band, jeden Schritt nah bei sich selbst zu behalten, während es sich im Laufe des Jahres 2018 in den RMS Labs in Regina, SK, organisch entwickelte.

Close Talker interessieren sich heute mehr denn je für zeitlose Musik - Musik, die die Hörer_innen nicht zwingt, in eine bestimmte Richtung zu denken oder auf eine bestimmte Weise zu fühlen. Die Band näherte sich jedem Song an, indem sie sich zu radikaler Ehrlichkeit verpflichtete und sich außerdem eine Liste mit 10 Geboten aufstellte, mit der jede Entscheidung gefällt wurde. Einige waren rein praktisch wie: "Beginne mit dem, was du kannst", während andere mehr zur Überprüfung der Einstellung dienten oder auch ganzheitlich waren: "Kein Ego". Alles, was die Musik betrifft, hat Vorrang.

"How Do We Stay Here?" ist ein Album, das die Band für sich selbst geschrieben hat, in der Hoffnung, dass die Stücke auch in zehn Jahren die gleiche Kraft und Bedeutung haben werden, wie sie es heute tun. "How Do We Stay Here", das bisher stärkste und selbstbewussteste Album von Close Talker, wird am 30. August 2019 veröffentlicht.


Close Talker is an indie rock band from Saskatoon, Canada. The band has toured throughout North America and Europe, gaining the attention and praise of notable publications such as NPR, Billboard, Clash, Spin, Q Magazine, and Consequence of Sound.

Close Talker about "The Change It Brings":

Time is universal and the only currency we all share. No matter what the situation, everyone is shaped by time. It can change us for the worse, or for the better, but at one point or another, all of us will have to face the force of time. This song, along with our new album, is us trying to wrestle with time. It's conveys trying to learn from our experiences, trying to keep perspective, trying to progress in this weird world, and sometimes trying not to progress at all; to sit in a moment and soak it in for all it has to offer before it becomes nothing more than a memory. 'How Do We Stay Here?' is us navigating through the past two years, to both the good times and the bad that shaped who we are, and learning how to learn from them.

Choosing to self produce their upcoming album "How Do We Stay Here?" allowed the band to hold this album close to their chest while it developed organically over the course of 2018 at RMS Labs in Regina, SK. Close Talker, now more than ever, is interested in music that is timeless - music that won't force the listener into feeling a certain way. To achieve this, the band approached each song following a code of instincts and honesty, including a list of 10 commandments by which all decisions were filtered through. Some were practical like: "Start with what you know" while others were more attitude checks or wholistic like: "No ego" All catering to the music coming first. How Do We Stay Here? is a testament to the band's integrity and a desire to produce music that is original and pure.

"How Do We Stay Here?", the band's strongest and most confident album to date, will be released on August 30th, 2019.


GET THIS NICE RECORD!

Stream/Download: smarturl.it/TheChangeItBrings

MUSIC:


LINKS:

www.closetalker.ca
www.instagram.com/closetalkerband
www.facebook.com/closetalkerband
BAND PICTURE: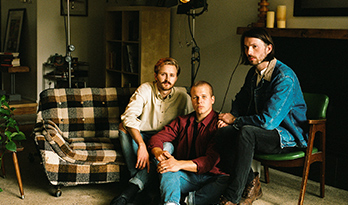 Close Talker Pic 01 | Close Talker Pic 02

Pics by Nicole Marie.
DATES:

19.10.2019 - DE - Darmstadt - Bedroomdisco
20.10.2019 - DE - Bochum - Jahrhunderthalle/Dampfgebläsehaus
21.10.2019 - DE - Köln - Subway
22.10.2019 - DE - Dortmund - FZW
23.10.2019 - NL - Utrecht - TivoliVredenburg
24.10.2019 - DE - Hamburg - Nochtwache
25.10.2019 - NL - Zwolle - Hedon