Die Erde schwankt durchs All, von hier aus gesehen geht die Sonne auf und unter, Musik ist in der Luft, Liebende lieben, das Essen ist fertig. Und Jan Roth, dem Grand­sei­g­neur des gepflegten Understatements, fallen vier Asse aus dem Jacket.

Wie sich diese seltsame ältere Person auf eine Parkbank setzt, so setzt sich Roth ans Klavier in seinem Leipziger Lieblingsstudio 'Behind The Plane' und dreht die Taschen um. Außerdem stellt er eine kleine Beatbox neben sich, 808 oder 909 oder was halt da ist. Und dann wartet er. Und wie im Park die Singvögel sammeln sich nun auf der vorliegenden EP wie von selbst die Stücke um ihn herum.

Das funkelnd neue "Hin Und Her". Das aufgewühlt wirbelnde "Rastlos" vom Debütalbum "L.O.W.". Das darauf folgende "Boicycle" vom letztjährigen Album "Kleinod", das den Moment fotografiert, wenn beim Fahrradfahren die stützende Hand erstmals den Gepäckträger los lässt: wacklig und überwältigt und stolz wird eine neue Freiheit erobert. Und schließlich das etwas weiter ausholende "März", das vom letzten Aufbegehren der winterlichen Melancholie erzählt. Auf "Redux" hören wir herzenswarme Miniaturen, gewandte Bonmots, geistreichen Unfug.

Über das sparsame Klangkonzept der Stücke, Piano und zurückhaltende Beatbox, sagt Roth: "Die beiden spazieren schön nebeneinander her, das Klavier zeigt viel auf die Bäume und Wolken und Menschen und Tiere. Der Beat geht nebenher, kickt Steine, ist aber nicht ohne Lust dabei. Keiner von beiden zieht am anderen. Sie verbringen einfach ihren Tag miteinander."

Der Schönheit des Zufalls und dem Zauber, der genau zwischen den Tönen liegt, baut Roth bereits auf seinem zurückliegenden Album "Kleinod" ein Denkmal. In den zum Bandsound gewachsenen Stücken lässt er die Musik einfach passieren, jagt ihr nicht hinterher. Nachdem er viele verschiedene Ansätze ausprobiert hatte und nicht zufrieden war, erledigt sich das Album auf diese Weise schließlich in vier bis fünf schönen Tagen von selbst.

Zuvor hat Roth mit "L.O.W." ein wunderschönes wie seltsames Album aus den Sounds seines WG-Zimmers in den Räumlichkeiten einer ehemaligen Nervenklinik gebastelt und komponiert, und damit von XLR8R über Zeit Online, Arte bis zum Editorial Team von Bandcamp viele neue Freund_innen gefunden.

Mit den Stücken auf "Redux" spannt Jan Roth nun den Bogen von "L.O.W." über "Kleinod" hinein in eine schöne Zukunft. Lehn Dich zurück in den Augenblick. Chill.


The earth swings through space. Seen from here the sun rises and sets, music is in the air, lovers love, food is ready. And Jan Roth - the grand seigneur of cultivated understatement? Four aces fall out of his jacket.

Just as this strange older person sits down on a park bench, Roth sits down at the piano in his favourite Leipzig studio 'Behind The Plane' and turns the bags inside-out. He also places a small beatbox next to him, 808 or 909 or whatever it is. And then he waits. And just like the songbirds in the park, the songs on this EP gather around him.

The sparkling new "Hin Und Her". The swirling "Restless" from the debut album "L.O.W.". Then "Boicycle" from last year's album "Kleinod", which photographs the moment when the supporting hand lets go of the rack for the first time while riding a bicycle: shaky and overwhelmed and proud, a new freedom is conquered. And finally, the somewhat more expansive "March", which tells of the last uprising of winter melancholy. On "Redux" we hear warm-hearted miniatures, skilful bonmots, witty nonsense.

About the very reduced sound concept of the pieces - piano and restrained beatbox - Roth says: "The two walk beautifully side by side, the piano points a lot to the trees and clouds and people and animals. The beat goes alongside, kicks stones, but is not there without pleasure. Neither of them pulls on the other. They just spend their day together."

Roth already builds a monument to the beauty of chance and the magic that lies exactly between the tones on his previous album "Kleinod". In the pieces, which have grown into a band sound, he simply lets the music pass by and doesn't chase after it. After trying out many different approaches and not being satisfied, the album finally takes care of itself in four to five beautiful days.

Previously on "L.O.W." Roth had made and composed a beautiful and strange album from the sounds of his shared room in the premises of a former mental hospital, and thus found many new friends from XLR8R to Zeit Online, Arte to the editorial team of Bandcamp.

With the songs on "Redux" Jan Roth now spans the arc from "L.O.W." over "Kleinod" into a beautiful future. Lean back into the moment. Chill.


GET THIS NICE RECORD!

Download / Stream via smarturl.it/JanRoth-Redux

LINKS:

www.janrothmusik.de
www.facebook.com/janrothmusik
www.instagram.com/janrothmusik
COVER PICTURE:

Redux Cover

ARTIST PICTURES: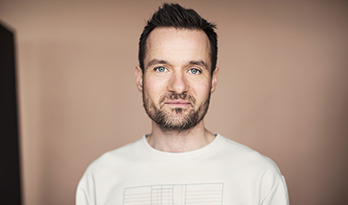 Jan Roth Pic 1
Jan Roth Pic 2
Jan Roth Pic 3
Jan Roth Pic 4

Pictures by Sandra Ludewig

DATES:

No dates at the moment
RELATED RELASES: