Mit "What If" veröffentlichen Bodi Bill bereits ein zweites neues Stück Musik! Nach "Kiss Operator, einer liebevollen Meditation über Optimismus und Zuversicht, wendet sich die Band mit ihrer neuen Single wieder der gepflegten Melancholie zu. "What If" ist ein schillerndes Liebeslied über Schwierigkeit loszulassen, über die gleichzeitige Sehnsucht nach etwas Verlorenem und nach einem Neuanfang, eine sanfte Hymne auf diese seltsame Zwischenwelt.

Gut sieben Jahre lang gab es keine neue Musik. Bis zu diesem Punkt sind Bodi Bill Vorreiter eines modernen musikalischen Eklektizismus aus Techno, Folk und Indie. Aus dem Nichts und ohne großes Geschrei wachsen sie an und in die Herzen der Hörer_innen, machen sich dort unverzichtbar und bringen sie mit schöner Regelmäßigkeit in schweißtreibenden Liveshows zum Überlaufen. Auf dem vorläufigen Höhepunkt der Band werden aber zunächst andere Experimente interessanter und wichtiger. Seit 2012 tragen Fabian Fenk und Anton Feist mit The/Das die Zärtlichkeit in den Techno, während Alex Stolze sowohl mit UNMAP als auch unter eigenem Namen an der Verknüpfung urbaner Popmusik mit dem intimen Klangkosmos traditioneller Instrumente arbeitet. Vor allem aber lassen sie eine Leerstelle stehen, die bisher nicht gefüllt ist.

Bei Bodi Bill geht es damals wie heute um den Austausch von Ideen und kreative Prozesse, die nicht in Abgeschiedenheit stattfinden, sondern in aufmerksamer Interaktion. Die Band spiegelt einen großen Kreis kreativer Freund_innen wider, die mal lose, mal enger miteinander zusammenarbeiten, und deren Motivation immer zuerst inhaltlich begründet ist. Als Knotenpunkte in einem unregelmäßig genüpften Netz führen Bodi Bill die Energien nun wieder zusammen. Mit neu gefundener Gelassenheit werfen sie alte Arbeitsweisen und interne Strukturen über den Haufen, fordern sich heraus und stellen eher Gegenfragen als Antworten zu geben.

Die neue Musik von Bodi Bill öffnet den Blick auf die kommende Zeit und darauf, was die Band immer war und wieder ist: die Freude am Experiment, die gegenseitige kreative Motivation, die unbedingte Neugier.


Berlin-based Art Pop / Electronica trio Bodi Bill release "What If" Bodi Bill - their second single. Following "Kiss Operator", that loving meditation on optimism and confidence, the band turns back to good old melancholy with their newest track. "What If" is a dazzling love song to the difficulty of letting go, to the simultaneous longing for something lost and for a new beginning, a gentle hymn to that strange world inbetween.

For almost seven years there was no new music. Up to this point Bodi Bill are pioneers of a modern musical eclecticism of techno, folk and indie. Out of the blue and without much clamor, they grow into the hearts of their listeners, making them burst, again and again in sweaty live shows. At the band's climax, other experiments become more interesting and more important. Since 2012 Fabian Fenk and Anton Feist carry tenderness into techno with The/Das, while Alex Stolze works on linking urban pop music with the intimate soundsphere of traditional instruments with his band UNMAP as well as under his own name. Above all, however, they leave an empty space that has not yet been filled.

  Bodi Bill, then and now, is all about the exchange of ideas, creative processes, and attentive interaction. The band reflects a large circle of creative friends, who sometimes work together loosely, sometimes more closely, and whose motivation is always based on content. Being knots in that loose net, Bodi Bill unify all the energies again. With newly found calmness they throw out old working methods, challenge the band and each other, and instead of giving answers they rather ask counterquestions.

Bodi Bill's new music gives a glimps of what the band is right now and always was: the joy of experimenting, mutual creative motivation, unconditional curiosity.


GET THIS NICE TUNE!

Audio files via smarturl.it/BodiBill-WhatIf

LINKS:

www.bodibill.de
www.instagram.com/bodibill.berlin
www.facebook.com/bodibill

COVERPICTURE:

What If Cover

BANDPICTURE: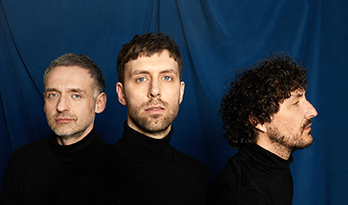 Bodi Bill Pic by Katia Wik
Bodi Bill Pic by Rosa Merk


DATES:

13.08.2022 - DE - Neukirch/Lausitz - We Go Apart Festival

presented by Ask Helmut, Bedroomdisco, ByteFM, Neølyd, Rausgegangen
RELATED RELASES: