Morgenluft und ein viel versprechender neuer Ansatz. Der Zauber des Sprungs ins Ungewisse und die jedem Anfang innewohnende Energie. Roh und sprudelnd, elegant und stolz: hallo Everything And Everybody.

Everything And Everybody leisten sich den Luxus der starken Behauptung. Und das Wagnis, sich selbst nicht auszudefinieren. Nicht im Moment. Mit offenen Strukturen vertraut das Berliner Trio auf seine Intuition, auf sich selbst und auf die Schönheit des Zufalls. Anton Feist (Bodi Bill, The/Das, Romano), Nikolas Tillmann (Le Very, NIAS) und Josephin Thomas lassen daraus elektrisierte Popmusik erwachsen; ruhelose Funkriffs mit schwerem 80er Einschlag und schweißtreibende Jams für nicht endende Nächte.

'Tragedy", das neueste Stück der Band, setzt sich mit freiem Willen und Gehorsam auseinander. "Man denkt man kann sein Leben steuern, tut es aber eben nicht," sagt Sänger Nikolas Tillmann. "Es geht um Abhängigkeit von Macht, Erfolg, Geld, all das. Man würde es wahrscheinlich nicht offen zugeben, aber man kann sich dem nicht entziehen." Und er fügt an: "Ich kam darauf, da all die Despoten der Stunde in der Weltpolitik mit ihren wohl gesetzten Posen, Gesten und Worten die Massen manipulieren. Und wir sind im Umgang miteinander im kleinen Alltag gar nicht so weit davon entfernt."

In den frühen 2010ern ist Anton Feist Teil von Bodi Bill, die als Band der Stunde lässig die losen Enden von elektronischer Tanzmusik und Folk verknüpfen und damit einen echten Moment erzeugen. Das Nachfolgeprojekt The/Das begibt sich tiefer in die Suche nach einem edlen und umarmenden Technosound. Feist verlässt The/Das, konzentriert sich zunächst auf andere Dinge und stellt sich irgendwann dem Berliner Krawall-Charmeur Romano zur Verfügung. Der Drang, eigene Musik zu machen, holt ihn immer wieder ein.

Er lernt Tillmann über Josephin Thomas kennen, die für die Bands von beiden die Bühnenkleidung entwirft und schneidert. Aus dem losen Wunsch, einige Stücke mit Tillmanns und Thomas' Gesang aufzunehmen, werden Everything And Everybody mehr und mehr zur gemeinsamen Band und nehmen mit jeder neuen Skizze Gestalt an. Während Feist bisher bei Bodi Bill oder The/Das nichts dem Zufall überlies, verfolgt er nun einen anderen und erfrischenden Ansatz. Bei Everybody And Everybody geht es nicht um präzise formulierten Sound. Das Gewicht liegt viel mehr auf der gemeinsamen Chemie, auf Haltung und Humor. Auch wenn das Ergebnis wichtig ist, der Weg dorthin ist wichtiger.

Everything And Everybody drängen darauf ihre comfort zone zu verlassen, sich zu reiben an dem, was kommt. Wenn die gemeinsame Energie stimmt, reicht auch stehen und winken.


Morning air and a promising new approach. The magic of the jumping right into the unknown and the energy inherent in every beginning. Raw and sparkling, elegant and proud: hello Everything And Everybody.

Everything And Everybody indulge in the luxury of strong assertion. And the risk of not defining oneself. Not at the moment. With open structures, the Berlin trio are relying on their intuition, on themselves and on the beauty of coincidence. In Everything And Everybody Anton Feist (Bodi Bill, The/Das, Romano), Nikolas Tillmann (Le Very, NIAS) and Josephin Thomas create electrified pop music, restless funk riffs with a heavy 80s impact and sweaty jams for never-ending nights.

'Tragedy', the band's latest offering, deals with free will vs. obedience. "You think you do control your own life, but actually you don't", says singer Nikolas Tillmann. "The song is about obedience to power, success, money, all that. You'd probably deny it publically, but you can not withdraw from these things." And he continues: "It came to my mind as all these despots manipulate the masses with their well-planned poses, gestures, and words. And we are not so far away from doing so to each other in our small everyday lives."

In the early 2010s Anton Feist is part of Bodi Bill, a band of the hour that casually combines the loose ends of electronic dance music and folk to create a real momentum. The follow-up project The/Das goes deeper into the search for a noble and embracing techno sound. Feist leaves The/Das, concentrating initially on other things and eventually makes himself available to the Berlin musician Romano. The urge to make his own music always catches up with him.

He meets Tillmann through Josephin Thomas, who designs and tailors the stagewear for both bands. Starting as a loose desire to record some songs with Tillmanns and Thomas' vocals, Everything And Everybody more and more become a real band, taking shape with every new sketch. While Feist previously left nothing to chance with Bodi Bill or The/Das, he now pursues a different and refreshing approach. Everybody And Everybody is not about precisely formulated sound. The emphasis is much more on chemistry, attitude and humour. Even if the result is important, the journey there is more important.

Everything And Everybody insist on leaving their comfort zone, pushing themselves against what's coming. If the energy is right, standing and waving is enough.


<!
GET THIS NICE TRACK!

Stream / Audio files via smarturl.it/EaE-Tragedy
LINKS:

www.everythingandeverybody.de
www.instagram.com/everything_and_everybody
www.facebook.com/Everythingandeverybody-1784919451570339
COVER PICTURE:

Tragedy Cover

BAND PICTURES: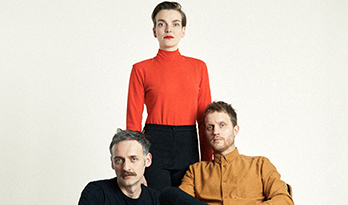 Everything And Everybody Pic 01
Everything And Everybody Pic 02

Pics by Katia Wik.
DATES:

No dates at the moment
RELATED RELASES:


Everything And Everybody
Everything And Everybody
read more...